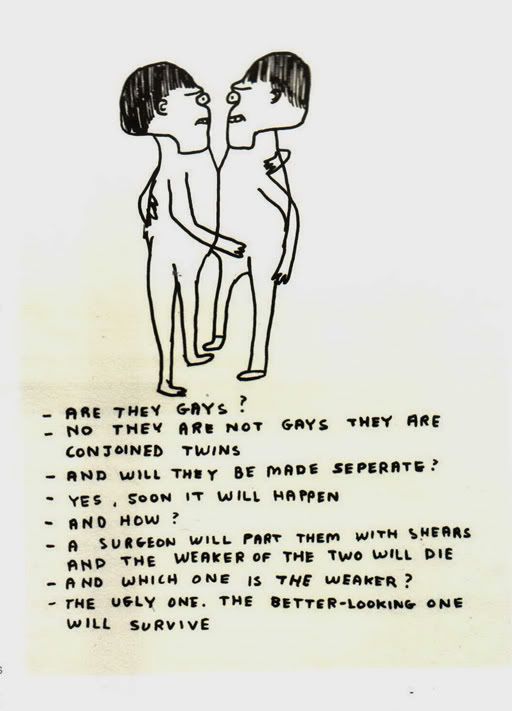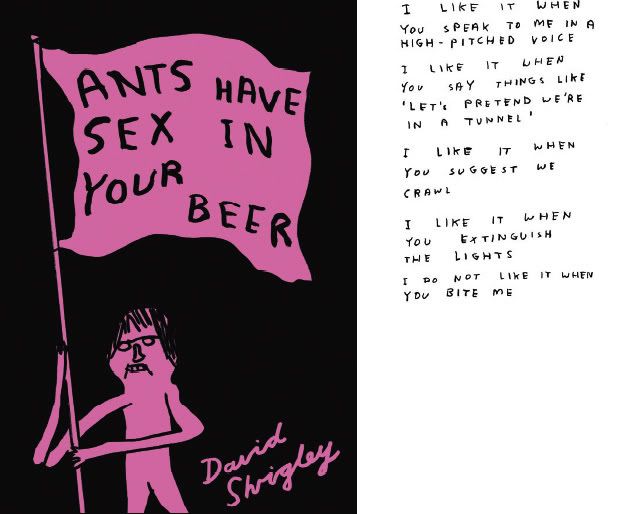 (cover of Shrigley's newest book with extract on right)



David Shrigley

David Shrigley is a Glasgow based artist who creates art in the realm of drawing, photograph, sculpture, social intervention and lyrics. Over the last year the artist has become more and more renowned within the popular art culture for his humorous , anti-aesthetic and intuitive work. His style being "anti-aesthetic"takes more of a childlike approach.
Another important feature that helps to define Shrigley's edge is his use of text, as the artist often writes captions to his intuitively made drawings. The subjects Shrigley captures are often stick-men or diseased figures with slight deformities. The themes of his work range from everyday situations that are often sort of horror induced, or feature a slight dark twist. The reason why Shrigley's doodles capture my attention is because his work offers humour we experience in our mundane lives, yet also deals with heavier topics in a unique manner.
Shrigley's art which as mentioned extends to writing, was used to create the album (released with book),where Shrigley collaborated with numerous musicians who used the artists writings from his publication "Worried Noodles". The participating musicians, including artists such as The Liars, Grizzly Bear, Trans Am and Deerhoof amongst others, wrote songs to fit to Shrigley's writings, which were then also released together with the eponymous book.
http://www.worriednoodles.com/